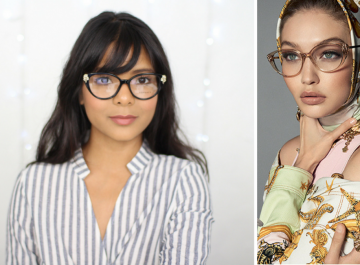 Fri 1 Jan
Versace Eyeglasses Houston
Unabashed in its display of Swarovski crystals and bold logos, the brand of Versace is a world-wide Italian luxury icon. For over many decades it has been distributing and retailing a wide variety of lifestyle products as well as an exclusive collection of haute couture. If you want to choose from the best and original eyewear collection, then do visit the Modern Optical Versace eyeglasses store located in the prime location of Houston. By introducing innovative and fearless designs every year this popular brand continues to strengthen and reaffirm its position in contemporary culture.

Versace represents its heritage by selling authentic sunglasses and other prescription glasses worldwide. Every pair of eyeglasses has the signature Versace logo and its knock-off versions cannot reproduce this unique logo in perfection. Hence the buyers will be able to differentiate between original and fake products. Since its versatile designs represent confidence, elegance, and character, this elegant brand has been worn and represented by many royalties as well as celebrities. Modern Optical sells different types of glasses in its product line up such as aviators, visors and rectangular-shaped lenses and frames.

This infamous brand stands out from other products in its quality as well as quality. Along with glamour, the Versace eyeglasses come with great durability which makes it a very convenient daily wear. Modern Optical is a trustable, authentic and an authorized Versace retailer. Eyewear for men usually comes in confident, powerful and bold designs. Expressive eyeglass collection embellished with crystals, ornate details, a diverse array of textures and colors is a must buy to every women's wardrobe. Whether you need a sun protection glass or prescription lenses, Versace has a pair for you.

Being uniquely fashionable and in vogue, Versace keeps on attracting more and more customers every year. The eye-catching and charismatic Versace products which the Modern Optical offers come with all necessary paperwork along with the original product cases. When you visit the store the well-trained staff there takes you through the explicit collection of products and you can choose from those according to your needs and prescriptions. If you need assistance with deciding which style suits you best you will surely get professional assistance. Versace eyeglasses are expressive and come with ornate details and a myriad of colors. Combined with cutting edge technology and fashion-forward style, Versace remains the most loved lifestyle brand around the world.