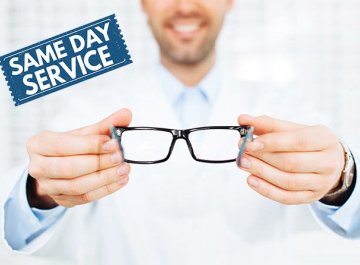 Fri 28 May
Eyeglasses in 1 Hour at Houston - Super Fast Service
If you are looking for a comprehensive eye exam, and correct solutions for your blurred vision and abnormalities, Modernopticals is a great option for you. Many researchers believe that the rise in cataracts and macular degeneration over the past few years is a result of harmful radiation present in our environment. Therefore it is recommended by optometrists and ophthalmologists that you always carry a protective glass with you even if you are not suffering from any sort of visual impairment or eye damages. The customers can choose to look stylish as well as reduce their eye strain by wearing lens and frames from Modernopticals. We connect with leading manufacturers and world-famous brands to bring you the best collection of eyeglasses with our zero-tolerance commitment to precision.
Wearing eyeglasses is a necessity for some people but others do buy eyewear as protective wear to withstand dust particles and avoid direct exposure to sunlight. Modernopticals is the apt choice for you if you are searching for stores located in Houston that do fast delivery of eyeglasses in one hour. Even though many stores in Rosenberg, Richmond, Alief are equipped with an in-house lab, many optical stores don't offer this type of rapid delivery and speedy service.
We provide high-quality eyewear that Protects you from accidental scratches and gives you improved visual comfort. The well-trained staff here approach every customer interaction to earn a customer for life. The staff assists you in choosing the hottest frames to fit your lifestyle as well as the budget. We vary in our collection from the most affordable yet stylish eyewear designs to high-end and luxurious branded products. Your face shape often plays a significant role when it comes to which lens frame suits or looks good on you. Our well-experienced staff will help you figure out which eyeglass is apt for you if you are having trouble finding out what suits you. Whether you are looking for finished sunglasses or an upgraded lens, we've got you covered.

Few retail shops that offer fast services may sometimes use low-quality lenses to reduce the carrying cost of their inventory. Unlike these stores, we ensure top-notch and elegant quality lenses are sold to our clients. We offer a wide range of branded lenses of optimum precision and the highest optical quality. Our splendid collection of eyewear includes progressive lenses and polarized lenses. For those customers who don't prefer visible lens lines progressive glasses would be a great choice. If you want to filter out glare and interruptions due to light reflecting off water or other shiny surfaces go for polarized lenses.